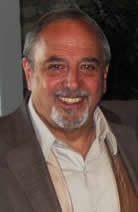 Ed Blumling President and partner in Ridder Pest Control has over 30 years experience in the pest control service industry. He has owned Ridder Pest Control for 28 years and was a pioneer in introducing the thermal bed bug service in Michigan. Ed had a clear vision of the success of thermal heat in killing bed bugs and their eggs. Other companies watched Ridder very closely in the beginning and saw for themselves it was the most effective bed bug treatment then and it remains the most affected to this day. Ridder was the first and remains the best at Thermal bed bug treatments.
JAY TOWERS, Detroit Radio and Television Personality
I know firsthand what bed bugs can do through my work in Radio and TV. They are without a doubt an epidemic. Ridder Pest Control can eliminate the problem safely and effectively. I've accompanied Ridder into hotel rooms, apartment complexes, and residential homes and watched the way they put an end to severe bed bug problems safely and eco-friendly with Thermal Heat. You really need to see it to believe it. Call Ridder today and see why they are easily the most trusted and reliable in metro Detroit.